I love a lot of things. Then there are things I REALLY OBSESSIVELY love. So instead of subjecting those around me to an endless conversation about these things that is actually mostly me talking, I'll post them here.
A bunch of musicians cover the hits of Elton John and it is the most glorious thing I've heard in awhile. Specifically, Florence Welch's cover of Tiny Dancer and Mumford & Sons cover of Someone Saved My Life Tonight both brought me to tears. Other highlights include P!nk's take on Bennie And The Jets and Alessia Cara's I Guess Thats' Why They Call It The Blues. I've loved Elton John's music since I got his Best Of CD for Christmas when I was twelve. The covers on this album both honor the beautiful simplicity of his music and use the complexity in his words and narratives to create something new and exciting. Apparently he's retiring next year and I may have a breakdown over it, but he's given more than enough so good for him. What a gift he is.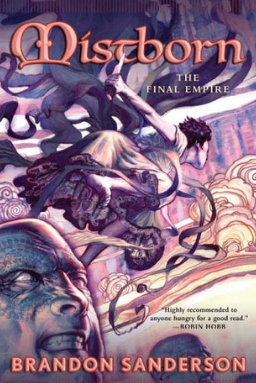 A 16 year old street urchin named Vin joins an underground criminal ring in a master plan to take down the Lord Ruler (who is both a god and the political leader of the land) and realizes she has magical powers and might be the next messiah. Its' His Dark Materials meets Shanghai Noon meets That Religious Studies Minor I Acquired at University and I am HERE FOR IT.
Mistborn was assigned to me to read by a new book club I recently joined, and when we met up to talk about the book they pointed out a bunch of issues that I honestly hadn't noticed before because I was having so much fun just reading it. In some cases they were right- do the training sequences get a bit repetitive and predictable? Sure, if you want to focus on that. Will someone find her makeover in order to go undercover at fancy balls lame and unoriginal? Perhaps. I DON'T CARE. While there may be some tropes that are overused (I mean come on, this is YA fantasy), it feels more like a candy treat than a chore. I take Comfort In The Tropes (a future name for a blog, don't steal it from me). I've got the next book in the trilogy, The Well of Ascension, sitting on my coffee table ready to go and I can't wait to see what sort of society Vin, Marsh and the rest build now that they can.
This podcast gives a bird's eye view to couple's consultation sessions with Esther. As my friend Jan put it, "she hovers over the couple, observes them interacting, and finds the one route or entry-point to their relationship that hadn't occurred to either of them yet". Esther's empathy and truth-telling honors the vulnerability and bravery these couples bring to the table in their frank conversations with her.
I was especially moved by the third episode, "Speak French To Me", where a couple who married during the Christian purity movement come to terms with the late realization that the wife actually loves sex, she just doesn't love it with her husband. He has his own hang ups that won't allow him to be free with her the way he desperately wants to- until he takes on the alter ego of Jean Claude, a sexy frenchman. If that sounds click-baity, please don't be deterred. Its' actually incredibly moving to witness (hear) two people at a crossroads in their relationship going to uncomfortable places in the fight for each other, which we see in some form every episode.